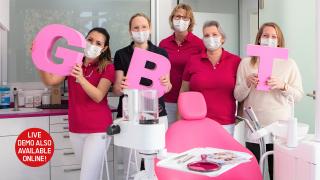 no
FREE HANDS-ON

GBT DEMO
Book a Free hands-on Guided Biofilm Therapy Demo with the AIRFLOW® Prophylaxis Master in the comfort of your practice. Now also available online!
WHAT YOU'LL DISCOVER DURING THE

FREE DEMO:
The 8 step Guided Biofilm Therapy protocol and its clinical evidence ✔
The clinical benefits of introducing GBT for you and your patients ✔
The financial benefits of introducing GBT to you and your practice ✔
The AIRFLOW® Prophylaxis Master and its original methods: AIRFLOW® / PERIOFLOW® / PIEZON® NO-PAIN with the AIRFLOW® PLUS Powder and PS Instrument ✔
How to improve the patient experience with GBT and promote a continuous care model ✔
Important points for the
live demo:
Your personal GBT expert will contact you as soon as possible to arrange an appointment. 
The GBT Live Demo lasts between 60 and 90 minutes. 
During the GBT Live Demo a patient or team member will be treated live  
A decision maker is present at the appointment 
In the USA and Canada, the GBT demo is only available online, unless agreed otherwise with the GBT Expert.
E.M.S. Electro Medical Systems cares about your privacy.
By providing your information to E.M.S. Electro Medical Systems you are accepting and consenting that we process your personal data according to the practices described in our Privacy Policy. We will use your personal data to provide you with the requested service or information. You can revoke this consent at any time.