01

ASSESSMENT AND INFECTION CONTROL

PROBE AND SCREEN EVERY CLINICAL CASE
Healthy teeth, caries, gingivitis, periodontitis
Healthy implants, mucositis, peri-implantitis
Start by rinsing with bacterx mouthwash (chlorexidine solution)
---
Anamnesis
Following the recommendations of the Word Dental Federation FDI White Paper on dental caries prevention and management, EMS puts at your disposition a caries risk assessment check list.
---
PROBING AND
SCREENING
Tables Below give the indications for safe use of AIRFLOW® and PERIOFLOW®. Subgingival use of AIRFLOW® and PERIOFLOW® requires good conditions of the soft tissue and absence of pus.
BACTER X PRO
Clinicians need to perform an individualized risk assessment and then rinse patients mouths with BacterX mouthwash before probing. Rinsing reduces the bacterial load, protecting clinicians and patient alike. Alberto EV et al, confirmed that use of a pre rinse of CHX prior to dental treatment reduces the aerosol contamination and protects the clinician and patient.
OPTRAGATE
Use an OptraGate for optimal visibility, access and lip protection. It is highly flexible, adaptable for all mouths, which ensures a maximum comfort for your patients.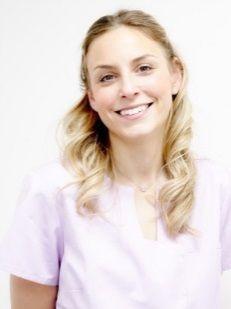 "A good soft tissue diagnosis as in GBT improves the overall quality of treatment"