02

DISCLOSE

MAKE BIOFILM VISIBLE
Show patient disclosed biofilm
The color will guide the biofilm removal
Once biofilm is removed, calculus is easier to detect
---
WHY DISCLOSE BIOFILM?
Most of the biofilm is invisible to the naked-eye
For patient motivation and Oral Health Instruction (OHI)
To guide clinicians to use AIRFLOW® only where it's needed
Evidence of clinical outcome: Color removed = biofilm removal
KEY FACT
In 2016, the independent german consumer group "Stiftung Warentest" revealed that only 50% of biofilm is removed interdentally during a standard professional tooth cleaning. The GBT step 02 (disclose) ensures that clinicians do not overlook removing any biofilm.
---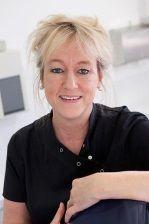 I realized that disclosing the patient is not just about showing the patient where the biofilm remains... but it is also a critical part of effective biofilm removal for us as the clinician.