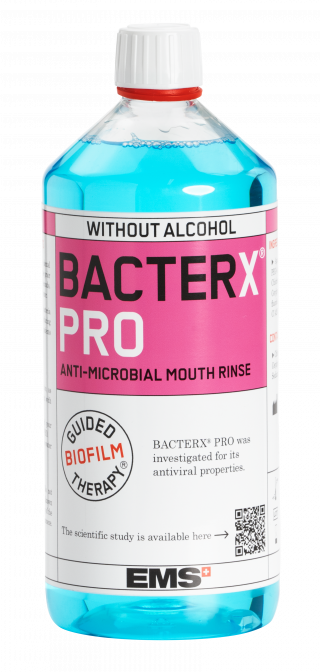 no
YOUR MODERN ANTIMICROBIAL RINSING SOLUTION
The new BACTERX® PRO, available without alcohol only, provides dental professionals with an effective solution for reducing the number of viable bacteria and viruses in aerosols released during dental procedures.
The pleasant tasting formula has been specifically designed for use before surgical, restorative and prophylaxis treatments, catering to almost all patient types. BACTERX® PRO can also be used in combination with the PIEZON® PS Instrument during scaling procedures by adding the recommended dose to the bottle of your ultrasonic scaler (Warning: rinse the bottle and unit's waterlines after use).
Start the 8-step Guided Biofilm Therapy (GBT) protocol or any other dental procedure by gargling with BACTERX® PRO mouth rinse for 40 seconds.
BACTERX® PRO is the first step in the modern professional teeth cleaning Guided Biofilm Therapy Protocol (GBT). GBT is an evidence-based, indication-orientated, systematic, modular prevention or prophylaxis and therapy protocol for all dental applications.
CONTAINS
Chlorhexidine Digluconate (CHX) 0.1%
Cetylpyridinium Chloride (CPC) 0.05%
Sodium Fluoride 0.01% (Fluoride 0.005%)
---
Reduces bacterial and viral count in aerosols
Combats oral biofilm and caries and gingivitis
Promotes healthy teeth and a fresh breath
Pleasant taste
Available without alcohol only
Check the availability in your country with your GBT expert
---