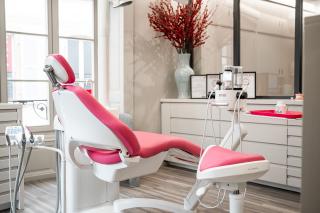 no
GBT LOUNGE
The ultimate prophylaxis experience
The ultimate success with Guided Biofilm Therapy
The GBT Lounge fits into even the smallest practice rooms. Including all necessary features to offer the best possible prophylaxis treatment, it adapts to every dental clinic. The AIRFLOW® Prophylaxis Master, the optimized workflow ergonomics, the comfortable, floating dental chair and the bright color scheme offer an "I FEEL GOOD" feeling to patients and clinicians.
I love offering a spa experience to my patients whilst giving them an expert prophylaxis treatment.
The only room dedicated to GBT
The GBT Lounge is a unique solution for performing GBT on the highest level. The fully integrated AIRFLOW® Prophylaxis Master offers a pain-free prophylaxis treatment at the highest level, working with state-of-the-art technologies such as AIRFLOW® MAX, PERIOFLOW® and PIEZON PS/PI MAX. Including all necessary features, the GBT Lounge offers a holistic solution for the best possible GBT treatments in an optimized work environment.
Optimal workflow ergonomics
The GBT Lounge has been designed to improve the ergonomic workflow for clinicians. The floating chair offers extra legroom to maintain an ergonomic position throughout the whole treatment whilst being able to treat the patient from every angle. The GBT stool adds to the ergonomic positioning by allowing the clinician to treat in a healthy posture all day. Thanks to the integrated AIRFLOW® Prophylaxis Master and the wireless food pedal, there are no more cables on the floor. Touchless dispensers and ultra-long-reach light improve the ease of work and maintain the highest possible level of hygiene.
Wow effect for your patients
Thanks to its bright color scheme, the ultra relax upholstery of the chair and the comfortable GBT treatment, the GBT Lounge creates an outstanding patient experience. Prophylaxis treatments in a spa-like environment make your practice stand out and patients are happy to come back for the recall.
Practice success
GBT Lounge offers to patients leads to an increased recall rate. Patients recommend your practice to family and friends, which allows you to welcome new patients to your practice. Providing an extraordinary work space, you will be able to attract new employees more easily. The GBT Lounge takes your practice to the next level and is a guarantor for business success.
300,000€ turnover/per is generated additionally by the two GBT Lounges. This is one of many reasons why the GBT Lounges have paid off for my practice.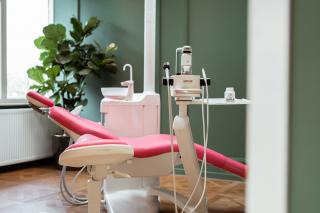 no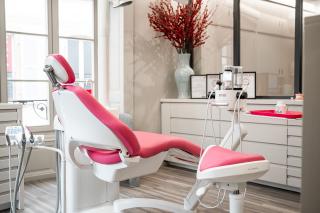 no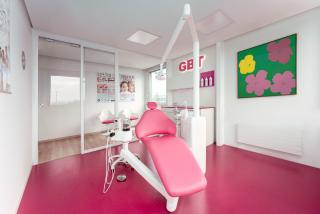 no
AIRFLOW® Prophylaxis Master
Offer the best, pain-free prophylaxis treatment with the latest technologies such as AIRFLOW® MAX, PERIOFLOW® and PIEZON® PS/PI MAX
Fully integrated into the chair
Floating chair
Ultra relax upholstery for ultimate patient comfort
Maximized legroom
Ergonomic flexibility
Built-in tray with 360° rotation
Stool
Ergonomically improved posture
Saddle seat
Adjustable sitting angle
Wireless pedal
No cables on the floor
Wireless connection to your Airflow® Prophylaxis Master
LED light
Intensity up to 50,000 Lux
Touchless sensor for improved hygiene
Furniture
Washing unit
Touchless dispensers for consumables
Stores consumables for up to 14 days
Get your GBT Lounge Experience