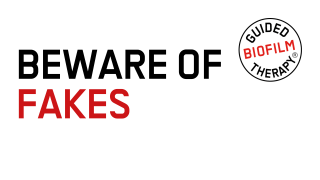 no
Protect your practice:
The risks of copycat dental products
Learn about the dangers of copycat handpieces, instruments and powders and why sticking to the original makes all the difference
In the pursuit of cutting costs, the temptation to opt for cheaper copies is ever-present. However, when it comes to oral health, cutting corners can have dire consequences.
The danger of copy tips
The original PIEZON® PS Instrument is designed for precision and patient comfort. Copies, however, can be inefficient, produce more noise, and result in visible scratches, even on glass.
Precision is paramount in medical instruments. The original PS Instrument, with its renowned efficiency and "NO PAIN" system, is a testament to this. However, the market has been flooded with copies, which, while looking similar, fall short in numerous crucial ways:
Compromised quality
Copies often bypass the rigorous testing and quality standards that original products undergo. As a result, their functionality can be significantly compromised.
Low efficiency
The original PIEZON® PS Instrument is meticulously designed for optimal performance. Imitations might not deliver the same level of efficiency, which can lead to longer treatment sessions and less effective procedures.
Absence of "NO PAIN" system:
One of the standout features of the original PS instrument is its patient friendly "NO PAIN" system. Copies don't offer this, leading to reduced patient comfort during procedures.

Potential health risks
Beyond comfort, there are safety concerns. Copies might be made from substandard materials that aren't biocompatible or degrade quickly, putting patients' health at risk.
Warranty and support void
Original PS instruments come with warranties and dedicated customer support. With imitations, if there's a malfunction or issue, there's little to no recourse.
Ethical implications
Purchasing counterfeit products often inadvertently supports unethical business practices, such as intellectual property rights infringement or the ability to treat patients in the best possible way.

Economic concerns
While imitations might seem budget-friendly initially, the long-term costs – considering malfunctions, frequent replacements, and compromised treatments – can be significantly higher.
The danger in counterfeit handpieces
When it comes to the AIRFLOW® Prophylaxis Master, genuine handpieces guarantee optimal functionality. Copies can compromise the device's efficiency and lifespan, leading to unexpected malfunctions and added costs.
The AIRFLOW® Prophylaxis Master, renowned for its AIRFLOW® and PIEZON® technologies, is a benchmark in dental care efficiency and patient comfort. However, using copies or non-authentic handpieces with this system can have dire consequences:
Diminished quality and efficiency
Original handpieces are the result of extensive research and rigorous quality standards. The precise engineering behind the original handpieces ensures optimal efficiency in both PIEZON® and AIRFLOW® functionalities. Copies don't undergo the same checks, leading to potentially inferior performance and longevity. They might therefore not be as effective, requiring longer treatment times or even multiple sessions.

Loss of patient and clinician comfort
Original handpieces are designed to maximize both patient and clinician comfort. Their precise construction, unique technologies and "NO PAIN" features are often absent in copies, leading to a less comfortable experience for the patient and the clinician.
Safety concerns
Non-authentic handpieces might be made from subpar materials that aren't biocompatible or can degrade rapidly. This raises concerns about potential harm or adverse reactions in patients.

Warranty and support issues
Authentic handpieces for the AIRFLOW® Prophylaxis Master come with manufacturer warranties and reliable customer support. Copies leave clinicians without this safety net, leading to potential financial and operational problems.
Ethical dilemmas
Using counterfeit products is not only a breach of intellectual property rights but also compromises the trust patients place in practitioners for using genuine, safe equipment.
Higher long-term costs
While copies may seem cost-effective initially, the expenses related to replacements, malfunctioning parts, and compromised procedures can accumulate over time.
Powder imitations: a hidden threat
The original EMS prophylaxis powders are formulated based on years of research for maximum effectiveness without harming enamel, dentine, or cementum. Copycat powders can result in irreversible damage to these structures, jeopardizing the oral health of patients and causing discomfort during the treatment. Buying copied versions of EMS powders can lead to a number of issues:
Potential enamel damage
Original EMS powders are formulated to ensure they effectively remove stains and biofilm without causing abrasive harm. Imitation powders can be excessively abrasive, risking enamel erosion and damage.
Dentine and cementum vulnerability
Dentine and cementum, being softer than enamel, are even more susceptible to damage. Using copied powders might not only strip away stains but could also erode these vital tooth structures, leading to sensitivity and other complications.
Decreased efficiency in biofilm removal
The precision engineering behind original EMS prophylaxis powders ensures optimal plaque and stain removal. Using alternatives might leave behind residual biofilm or stains, compromising the results of the procedure.
Safety concerns
EMS powders undergo rigorous testing for biocompatibility and safety. Copies, on the other hand, might be formulated with untested or potentially harmful ingredients, posing risks to patient health.
Warranty and support complications
Using non-authentic powders with the AIRFLOW® Prophylaxis Master might void any existing warranties. This could result in financial burdens if any components of the machine malfunction or require replacement.
Increased costs in the long run
While copied powders might appear cost-effective initially, the hidden costs of machine maintenance, potential patient complications, and replacement parts can accrue significantly over time.
Device and handpiece damage
Authentic powders are designed to work harmoniously with the AIRFLOW® Prophylaxis Master's systems. Using non-standard powders can clog the handpieces, lead to uneven spray patterns, and even cause irreparable damage to the machinery over time.
Join our mission in preserving the highest standards of dental care
Do you have questions about the authenticity of your products? Do you want to support the fight against abrasive, harmful copied products? Connect with us for original solutions and guidance.
E.M.S. Electro Medical Systems cares about your privacy.
By providing your information to E.M.S. Electro Medical Systems, you are accepting and consenting that we process your personal data according to the practices described in our Privacy Policy. We will use your personal data to provide you with the requested service or information. You can exercise your rights at any time.